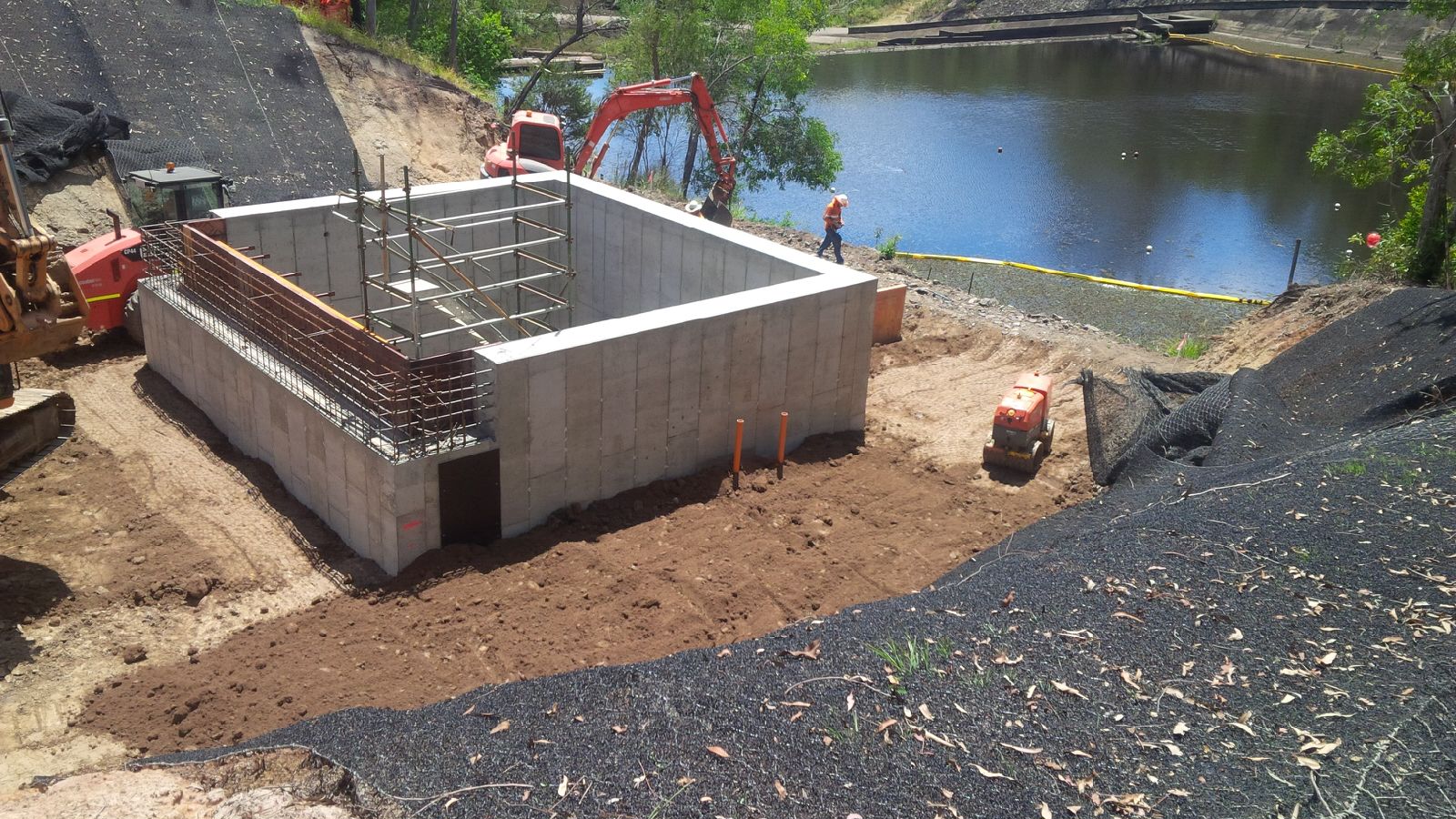 Client: Fraser Coast Council
Contractor: BMD Constructions
The Teddington Weir water treatment plant is located on the banks of the Tinana Creek and provides clean drinking water to the town of Maryborough which is situated 210km North of Brisbane.  
Geoinventions Consulting Services Pty Ltd (GCS) were engaged by BMD Constructions during the  tender stage to assist with design optimization of the current design proposed by the original principal consultant. After thorough review of the geotechnical conditions, GCS proposed three alternative options which would make the construction of the intake pump station easier, safer and more cost effective. One of these methods were proposed as an alternative tender, and together with other industry "smarts" created a successful bid.
GCS was also engaged during the construction phase of the project for the following designs:
Slope stability calculation of the earth dam wall situated between the river and deep excavation.

Design optimization of surface protection during the deep excavation.

Design of temporary sheet pile wall during construction of staircase to access the pump station.
GCS provided value on the design optimization for slope protection around the deep excavation as can be seen from the photos above. GCS geotechnical engineers inspected the current slope to confirm insitu conditions and design geometry. From the site inspection, temporary surface protection to prevent rockfalls within the work area below was required. Extremely weathered to moderately weathered sandstone cut slopes ranged between 10.0m and 7.0m on either side of the work area. The principal designer had nominated reinforced shotcrete on the earth dam and side slopes which would have increased the construction schedule and added additional expenditure to the project. Based on GCS experience with slope stabilization, GCS nominated the slopes be protected with Macmat-R which combines high strength rockfall mesh with a turf reinforcement mat. This provides protection from rock falls 600mm in diameter or smaller from impacting workers below. This protection method was cheaper and easier to install and provides instant protection to the work area below.
The project was successfully completed within the timeframe with the cost effective alternative solutions provided by Geoinventions. All project Key Performance Indexes (KPIs) were achieved with Zero Injury Loss Time.