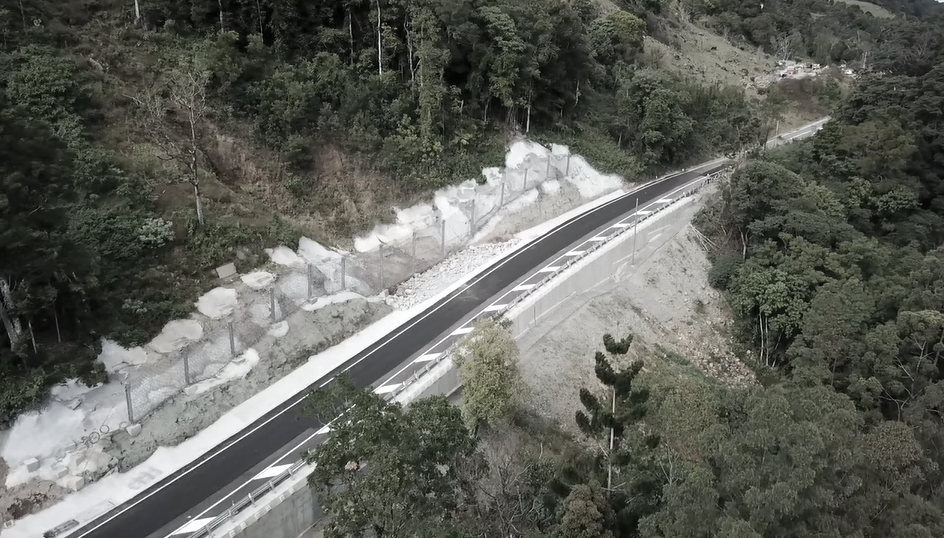 Client: Doval Constructions
Project Value: $11 million
A large number of roads across the South Coast Region sustained significant damage as a result of Severe Tropical Cyclone Debbie in March 2017. The Nerang-Murwillumbah Road project required reconstruction due to a large slope failure following extreme weather events during the cyclone. The rehabilitation project was awarded to Doval Constructions which comprised of batter stabilisation works and a 144m long retaining wall. The permanent design included the installation of a debris catch fence up-slope and a long bored-pile retaining wall downslope to support the increased width of the carriageway and a drainage channel.  
Geoinventions having significant range design experience was engaged by Doval Constructions to provide the temporary works design on this project. This included a steep excavation next to the existing road which was to remain open and relocated. A high risk temporary working platform which would be used for the construction of the bored pile retaining wall was designed to cater for two piling rigs operating simultaneously on steep slopes during the pile installation. 
Geoinventions conducted slope stability assessments and bearing pressure calculations for the design of the working platforms. To ensure construction cost-effectiveness and reducing the use of quarry material, Geoinventions adopted on-site backfill material for temporary working platform construction. Due to the steep slope and high working loads, the working platform was reinforced with geogrid. 
Geoinventions geotechnical engineers were engaged to manage the risk on site during construction, release construction hold points, witness soil nail installation and assist construction crew. Geoinventions having experienced on-site piling experience were also appointed as the Geotechnical Piling Assessor for verification of the bored piles according to DTMR standards. 
The project was successfully completed successfully in June 2019.