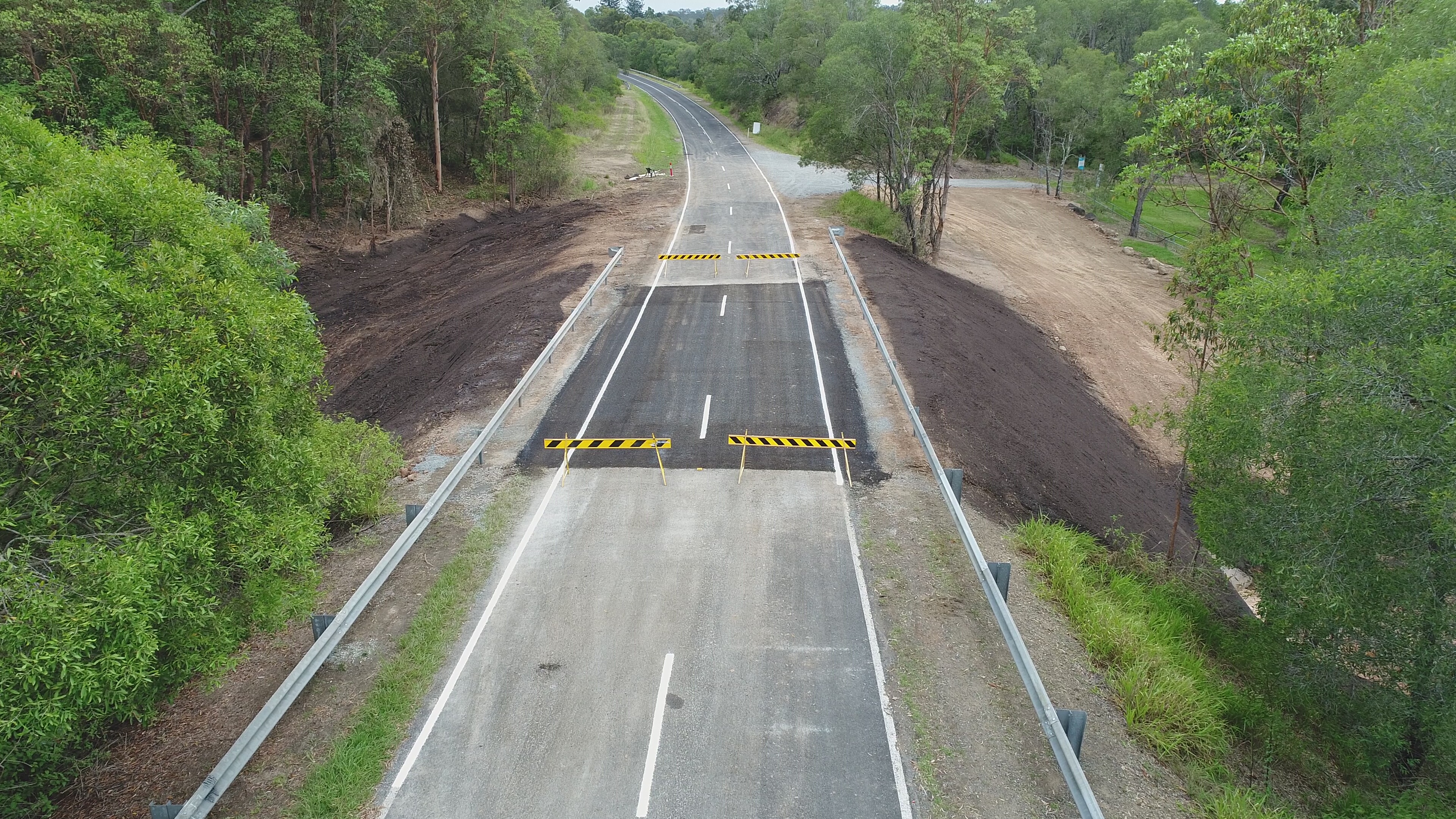 Client: Moreton Bay Regional Council
Contractor: Doval Constructions
Moreton Bay Regional Council had to undertake some urgent road and drainage repair along Mount Samson Road, Samsonvale QLD due to the localised settlement caused by an existing deteriorated steel corrugated pipe. The newly proposed stormwater culvert system was approximately 30.0m long and 9.7m below the top of the road embankment. The scope of this project involved soil investigation, bulk earthworks, new larger stormwater culvert drainage system and reinstatement of road.
Geoinventions Consulting Services (GCS) were engaged by Doval Constructions Pty Ltd, to provide the shoring box assessment during temporary excavation, temporary slope stability design and design of the Reinforced Soil Structure (RSS) for the upstream embankment. The temporary retention for 9.7m of soil involved installing a 5.0m high shoring box for vertical cut and the remaining 4.7m depth cut to 60 degrees. The 60 degree temporary slope protection was secured with Combigrid 40/40 with N20 reinforcing pins. This reduced the footprint for the existing road removal and minimised the volume of excavation. Doval and GCS managed to reuse all the existing material as part of the backfill although minimal import was necessary. The reinforced embankment design adopted ACETex® Pet Woven Geotextile with a Macmat®R turf reinforcement
mat to ensure revegetation. This allowed for the reinforced embankment to be constructed as efficiently as possible to reopen the road as quickly as possible and also saved construction time and cost as it is costly and timely effective than other engineering methodologies. This project has been completed one (1) week earlier than the project timeline.
The services Geoinventions provided included:
– Stability assessment for the excavation and lateral capacity of the proposed shoring boxes under the
surcharge load from the excavator and crane operation.
– A reinforced upstream embankment design.
– Provision of construction staging drawings.
– Analysis and selection of new concrete pipes and fill in bed, haunch and side zone.
– Site inspections.
Construction commenced in 29/10/2018 and was completed 07/12/2018 ahead of schedule.